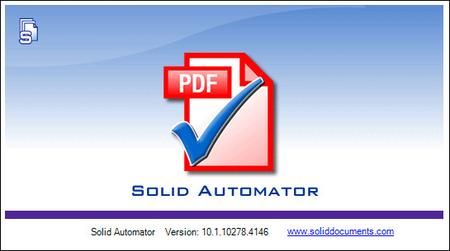 Solid Automator 10.1.15232.9560 Multilingual | 76 Mb
Solid Automator - automated PDF to Word conversion, PDF/A validation, PDF to PDF/A conversion, searchable PDF creation and text extraction. Solid Automator uses watch folders and pre-defined settings to automate PDF workflow. Convert images and PDF files to PDF/A, validate PDF/A and create PDF to searchable PDF or PDF/A. ISO 19005 PDF/A-1b, PDF/A-2b, PDF/A-2u, PDF/A-3b and PDF/A-3u formats supported.

Features
Archival Using PDF/A
- Convert to PDF/A
- Validate PDF/A
- PDF to Searchable PDF or PDF/A
- Create PDF from Images
Archiving
TIFF to PDF Converter. Convert legacy scanned TIFF documents into fully searchable and archivable PDF/A documents.
OCR for Search. Add searchable text layer. Easy for indexing and archiving legacy and paper documents.
PDF to PDF/A Converter. Convert existing normal or image PDF files into fully searchable ISO 19005-1 and ISO 19005-2 compliant archivable documents.
Validate PDF/A. Verify ISO 19005-1 and ISO 19005-2 compliance for existing PDF documents and repair common issues.
Standard PDF/A Compliance Reports. Solid PDF Tools creates standard PDF/A validation reports as per the specifications from the PDF/D Consortium.
System Requirements
Windows 10, Windows 8.1, Windows 7 (32 and 64 bit versions)
Minimum - CPU: Intel®️ Pentium®️ 4 (2GHz) or AMD AthlonTM XP 2800+ (2.2GHz); RAM: 512MB
Recommended - CPU: Intel®️ 2 Duo E6300 (1.86GHz) or AMD AthlonTM 64 X2 3800+ (2GHz); RAM: 2GB
Home Page
-http://
www.soliddocuments.com/



Recommend Download Link Hight Speed | Please Say Thanks Keep Topic Live